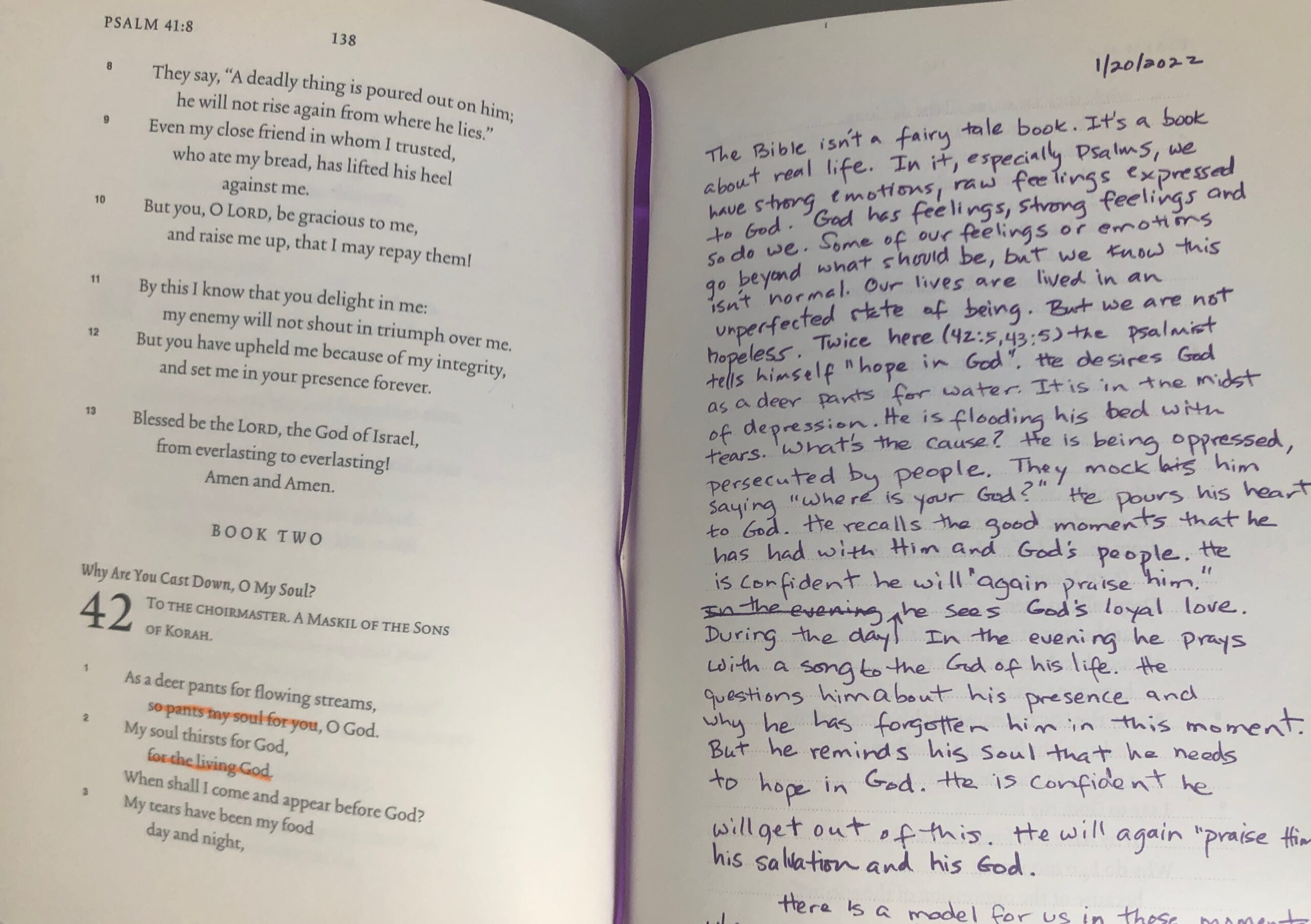 As a deer[c] longs[d] for streams of water,
so I long[e] for you, O God!
2 I thirst[f] for God,
for the living God.
I say,[g] "When will I be able to go and appear in God's presence?"[h]
3 I cannot eat; I weep day and night.[i]
All day long they say to me,[j] "Where is your God?"
4 I will remember and weep.[k]
For I was once walking along with the great throng to the temple of God,
shouting and giving thanks along with the crowd as we celebrated the holy festival.[l]
5 Why are you depressed,[m] O my soul?[n]
Why are you upset?[o]Wait[p] for God!
For I will again give thanks
to my God for his saving intervention.[q]  – NET Bible
The Bible isn't a fairy tale book. It's a book about real life. In it, especially Psalms, we have strong emotions, raw feelings expressed to God. God has feelings, strong feelings and so do we. Some of our feelings or emotions go beyond what should be, but we know this isn't normal. Our lives are lived in an unperfected state of being. But we are not hopeless. Twice here (42:5,43:5) the psalmist tells himself "Hope in God". He desires God as a deer pants for water. It is amid depression. He is flooding his bed with tears. What's the cause? he is being oppressed, persecuted by people. They mock his him saying "Where is your God?" He pours out his heart to God. He recalls the good moments that he has had with Him and God's people. He is confident he will "again praise him". During the day he sees God's loyal love coming. In the evening he prays with a song to the God of his life. But he also questions him about his presence and why he has forgotten him in this moment. Yet he reminds his soul (telling himself out loud) that he needs to hope in God. He is confident he will get out of this. He will again "praise Him", his salvation and his God.
Here is a model for us in those moments when we are cast down or depressed. We must speak to ourselves the truth. In these moments our desire for God should be stronger and real. We can express our raw feelings and emotions to Him. Our songs (we have plenty to choose from as opposed to writing our own) and prayers should be more not less.