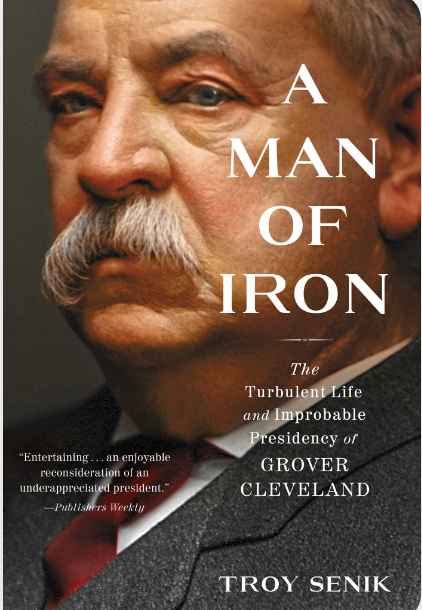 A Man of Iron
The Turbulent Life and Improbable Presidency of Grover Cleveland by Troy Seine
One of my favorite reading genres are biographies and includes presidents. I own and have read quite a few presidents which usually are the ones most people know about or are widely known. I was excited to find this biography on a president that most people know very little about including myself. Troy Seine, a former White House speech writer has written this biography of the twenty-second (and twenty-fourth) president. It is not a long exhaustive biography but it does justice to Grover Cleveland. Grover Cleveland, weighing 275 pounds, was an "ordinary" man and this where his greatness came from according to Seine. He served two separate terms and was the "final Democratic president to embrace the classical liberal principles of the party's founder, Thomas Jefferson. Cleveland believed in a narrow interpretation of the Constitution, a limited role for the federal government, and a light touch on economic affairs." (7) Cleveland stands in a unique position in our current times. But one thing is to have such a view and another is to believe it and live it. Cleveland's character never wavered in this belief. He was a man with integrity. Seine, in his masterful Afterword writes, "Virtually everything worth saying about Grover Cleveland boils down to that one elemental fact: he possessed moral courage at almos superhuman level. He was consistently motivated by conviction, even when he he knew he'd suffer political harm as a result." (320) We need more presidents like Grover Cleveland. Why don't we? Seine says that is because of the way that American was founded. Our system allows for "mediocre leadership". "Yet it is," he says, "an impoverished conception of America that imagines that the least we can tolerate is the most which we can aspire." (222)
I learned quite some interesting facts about Cleveland. He was a son of a Presbyterian pastor in New Jersey. As a family they kept "the sabbath" and had their own family worship. Unfortunately, his father died at the age of forty-nine. This forced Cleveland to enter the workforce. He went to work as an English teacher at New York institute for the Blind where he met Fanny Crosby, one of my favorite hymnologists of the last century. Slowly, Grover rose to the political arena from assistant DA, to Sheriff of Buffalo, Mayor of Buffalo, and eventually governor of New York. This in turn led him to the presidency as a Democrat who had not won an election in almost 30 years.
Grover Cleveland was a workaholic. He worked long hours, often till midnight.
He loved drinking beer.
He was a bachelor president for the first year in office until he married Frances Folsom who was thirty years younger than him. He was the first to be married on White House grounds at the age of 41.
He had cancer surgery on the deck of a hatch named Oneida. Seine's description is funny to say the least.
Quotes by Grover Cleveland:

"We believe in the principle of economy of the people's money, and that when a man in office lays out a dollar in extravagance, he acts immorally by the people." (46)
"A Democratic thief is as bad as a Republican thief." (46)"Parties may be so long in power, and may become so arrogant and careless of the interests of the people, as to grow heedless of their responsibility to their masters. But the time comes, as certainly as death, when the people weigh them in the balance." (88)
His last words were said to be, "I have tried so hard to do right" (313).
I agree with Senik that Grover Cleveland needs to be recognized and honored as many other presidents. He was indeed "a born statesman who never quite mastered the lower arts of politics." (321)
Troy Seine has done as a favor re-introducing "A Man of Iron The Turbulent Life and Improbable Presidency of Grover Cleveland".