In the Bible, we find people setting markers in places where they lived or experienced God (Abraham, Jacob, Isaac). They were set as visible memorial of what God had done. We do this as well. Our markers are places we lived or traveled. It also includes pictures and other memorabilia.
Today I had an appointment in Santa Ana, California. I had time, so I decided to drive by the houses I lived as I was growing up as a teenager. My mom and three of my sisters, one of them who is with the Lord, came to the US in 1981. We spent half a year living in Orange, a year in Los Angeles and then moved to Santa Ana. In 1983 we lived on Minnie Street. It was a two bedroom home. I remember sleeping in the living room next to my mom and youngest sister. This home had a basement, a small one which I was fascinated though it didn't have a purpose. From this house I walked to Middle school and remember the path I took. It was at least 3-4 miles and I hardly missed school. It was in this house where I first met Jimmy who picked me up for church and mentored me. He is pastor of Grace Community Church in Santa Fe New Mexico. It was here where after becoming a believer and started to miss a couple of church meetings, that the senior pastor visited our home. I don't recall what he said, but I know he encouraged me to not forsake the assembling. This returned me to the course and kept me faithful to the Lord.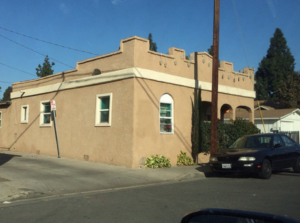 The first home we lived in OC on Minnie Street
The second house is where I lived the longest. I lived here until I married at the age of 20 (almost 21). This house had two bedrooms as well. I slept in one of the rooms with two of my sisters. I still walked to school from here and it was even farther from the previous house. It is on this house on Flora street that I met everyday with my best friend from church and prayed in the early dawn. I met with others as well. It is in this house, the garage in the back, where I spent many hours studying the Word of God and my learning foundation was set. It was here where I prepared my sermons, studies and poured my soul to the Lord in prayer. Then there was the trailer that a friend helped me restore that became my room. The bed was so small that I barely fit as my feet and head hit the walls. It had a small couch and table. Here, I discipled a young man from our church. It was in this trailer where I prayed fervently for the woman who became my wife. This home was my headquarter in my spiritual beginning and my growth in Christ. I am thankful for my family, my mom, my four sisters and my nephew who lived in this home. They played a role in my life as a young man following Christ. God has been good and these two structures serve as spiritual markers of my journey of faith.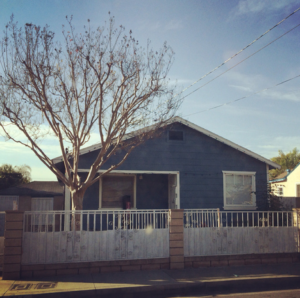 The house on Flora Street in Santa Ana
Disclaimer:
The contents of all personal web pages and blogs published are solely my responsibility.
Statements made and opinions expressed on personal pages are strictly those of the author and not of any organization, church, or school.