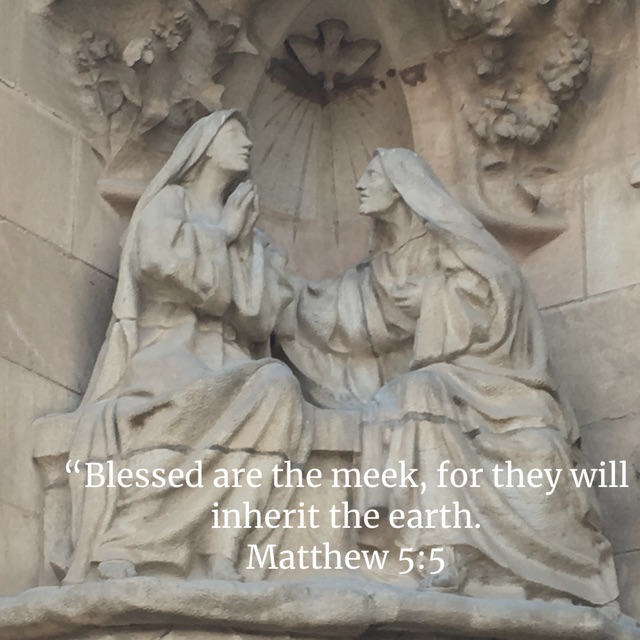 I didn't want to dignify what the media has been talking about what happened at the Oscars. If you're a Christian and haven't seen or heard it, don't worry, you haven't missed much. The world we live is full of contradictions as to how we should live and this is because absolute moral values no longer exist. Everything is relative. On the one hand they say that violence is bad but on the other hand it is acceptable as long as you are defending your rights. The world exalts people who defend themselves and take it out on others, especially when they are offended.
Meekness is not a virtue cherished, proclaimed, or procured in our world. However, it is a virtue that as Christians we need more and must have.
The Lord Jesus Christ said that meekness is a quality of His followers.
"Blessed are the meek, for they shall inherit the earth." Matthew 5:5
Meek means to control our physical strength.  The meek person understands who he is before God and does not need to demonstrate anything with his strength. Why? Because we have nothing to lose. We understand that we are sinners who deserve nothing from the Lord. And yet God has assured us of our rights as His children in His kingdom. This is why Scripture commands us to not give in to anger.
" Don't be angry or furious.
Anger can lead to sin.
9 All sinners will disappear,
but if you trust the Lord,
the land will be yours.
10 Sinners will soon disappear,
never to be found."  (Psalm 37:8-10)
Proverbs 16:32 tells us that a person who controls his emotions, especially anger when provoked, is better than one who conquers a city. The world does not praise, admires, or teaches being meek. It teaches us the opposite, to be strong and aggressive. The meek does not respond or fights physically.  The world applauds the aggressive who takes it out on others, but not God.
Meekness is not a quality often spoken of by great leaders.  Meekness is to be humble and gentle.  It is someone who does not turn angry quickly. It is someone who does not easily gets upset or becomes violent. He is someone who has a lot of patience before getting angry. It is someone who is not always on the offensive expecting that someone will hurt him. Generally, the person with meekness is harmed and offended more than others.
Meek means not becoming resentful easily or holding a grudge when we are hurt. Why? because we recognize what our position is before God. We are sinners who have received God's mercy and grace.
"Meekness is to show a submissive character in the face of provocation, the willingness to suffer and not cause harm. The meek person leaves everything in the hands of the One who loves and cares."  – Hendricksen
Our Lord Jesus Christ exemplified meekness: " Take my yoke on you and learn from me, because I am gentle and humble in heart, and you will find rest for your souls." Matthew 11:29
If we are talking about great leaders who might have felt superior or with a lot of authority, Moses was that leader. He lead more than two million people. He could have been a strong commander, the dictator type. However, he was not. He learned to be meek and humble, possibly during his time in the wilderness (remember he killed an Egyptian before fleeing). No doubt he continued to learn meekness in leading the people of Israel. The Bible says of him:
"And that man Moses was very meek, more than all the men on the earth."  Numbers 12:3
This is after his sister and brother had murmured against him as a leader. Moses did not defend himself. God defended him and became angry against Mary and Aaron. She ended up with leprosy and was restored until Moses prayed for her. I love his prayer:
"Then Moses cried to the Lord, "Heal her now, O God." (v. 13)
He prayed that he would heal her at that time and not after she had "paid" for what she did. This shows his meekness. Moses was like Christ. And for this he was blessed by God.
Although it is difficult to be meek and give up our "rights," God promises us that He will give us every right to inherit the earth: "Blessed are the meek, for they will inherit the earth." Matthew 5:5
What a privilege! We will be joint heirs and owners with Christ. We will reign with Him because of our meekness.
"But the meek shall inherit the land and delight themselves in abundant peace" (Psalm 37:11)
How are you developing your meekness? Remember that meekness is a fruit of the Spirit (Gal. 5:23). It comes as a result of our submission to the Spirit of God.