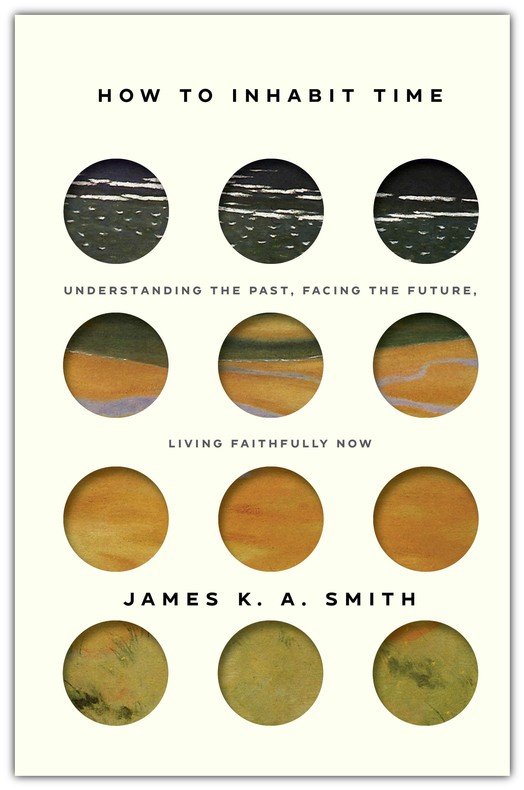 Inhabiting Time by James K.A. Smith
It was an enjoyable book dealing not with just time in general but our time, how we live our lives in this world God has placed us. God created time and we are part of it. This is significant. We must live keeping this reality in the forefront. It is very insightful.  I related a lot with him since we are about the same age and season of life as he is. It is of course philosophical, quoting from diverse sources including his favorite "his friend" St Augustine, Kierkegaard and others. His religious (and political) bent is different than mine so I don't agree with al his views and interpretations of Scripture (He spends some time criticizing Dispensationalists and their End times views) and of life in general.
But he is a good, thoughtful thinker. I appreciate his transparency about his life, (e.g., bouts with depression) which I relate to as well. Again, he has some really good thoughts about life and its course through time (with end notes with more books to explore).
Here are some of my favorite quotes and some of my thoughts.
"We might imagine spiritual timekeeping as an expansion of the spiritual discipline of memento mori, the disciplined habit of keeping death before us." (12)

"Human beings dwell temporally. Time doesn't just wash over us like rain, because our very being is temporally porous. To be temporal is to be the sort of creature who absorbs time and its effects. A rolling stone might carry no moss, but a temporal human being picks up and carries an entire history as they roll through a lifetime." (27)

"William Faulkner's insight: "The past is never dead. It's not even past. Our past is not what we've left behind; it's what we carry. It's like we've been handed a massive ring of jangling keys. Some of them unlock possible futures. Some of them have enchained our neighbors. We are thrown into the situation of trying to discern which is which. We are called to live forward, given our history, bearing both its possibilities and its entanglements. Faithfulness is not loyalty to a past but answering a call to shalom given (and despite) our past." (33)
We are not victims of time, we are part of time. Time carries history or history time and we carry with it with us as we live our lives. We are absorbing the events that happen in our times.
"God does not want to undo our pasts; nor does he want us to nostalgically dwell in our pasts; God's grace goes back to fetch our pasts for the sake of the future." (63)

"The "I" is saved only if this me with this bodily history rises to new life. If all that I've lived through was simply erased by grace, then "I" am lost rather than redeemed. If all that I've become and learned and acquired and experienced was just overwhelmed and made null by grace, then salvation would be an obliteration rather than redemption." (64)

"The jagged line that is your story tracks the path of God's companionship and care. Who, indeed, can straighten what God has made crooked? And why would you wish it were straighter? Look what God has done: that crooked line is one he drew with you." (72)
These three quotes relate to our past, especially that which has hurt us. God uses all of it "for the sake of the future".  Who we are is made up of al these experiences and God makes out of this something.
"Historical proximity is not the same as an encounter with the God who arrives in history"(81).

"Learning to live with, even celebrate, the transitory is a mark of Christian timekeeping, a way of settling into our creaturehood and resting in our mortality."(97)

"When you understand that life is a vapor and appreciate that the seasons of life are both expected and transitory, you're primed to inhabit them with the proper expectations: to know when you are and dwell in that now, but in such a way that you recognize this too shall pass." (115)

""Taking the time" is a way of letting the season shape us, and ultimately there is a trust that God's providential and caring hand is not only behind the season but holding us through it."(127)
God is actively involved in our lives. We need to be aware of our temporary nature in this planet but also that God is part of every season we go through.
"God's nearness looks and feels different depending on the season you're in. You will also find that Scripture sounds different, depending on your season." (141)

"Because time is not flat, God doesn't always sound the same. Of course his Word endures, just as the score for Beethoven's Ninth Symphony is "set." But that doesn't mean we don't hear it differently, that it doesn't mean anew. This is why repeated listening is a gift." (141)

"A life lived with God through time is a period of incubation in which the Spirit of God is creating the capacity in us to hear the same Word anew and to make the Word echo afresh in the new crevices in our heart. " (143)
I agree with this. As I have lived my life as Christian, "God's nearness looks and feels different" and even "Scripture sounds different."  This is part of the growth towards being in the likeness of Christ. It is hard to determine progress because we can't really see how it all fits together. But we will in the end when the Lord comes back for us. What should be true is that we are experiencing God's presence each step of the way.
"The God who saves is a mosaic artist who takes the broken fragments of our history and does a new thing: he creates a work of art in which that history is reframed, reconfigured, taken up, and reworked such that the mosaic could only be what it is with that history. The consummation of time is not the erasure of history. The end of all things is a "taking up," not a destruction. "Time was not made for death but for eternity.""
Amen to this!